MEDIA RELEASE FOR IMMEDIATE USE: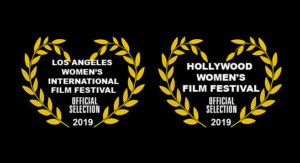 AUSTRALIAN WOMEN SPEAK OUT
IN NEW EMPOWERMENT VIDEO
The 'Me Too' and 'Time's Up' movements have kept women's rights in the forefront of the press and social media.  It is trending as one of the most prominent issues today.
A diverse group of talented Australian filmmakers and a cast of women of every race, age and size have joined forces to shoot a new video called 'No Means'.  In this video, very real women break their silence and give their voices to what 'no' means.
The video, produced and written by Shirley Pierce and directed by Danielle Culleton, is Australia's answer to the global movement of women's empowerment.
"What's new about our take on the subject is that it has every day women speaking truth to power about what women have to deal with every day," Shirley said.
"Everything from being shamed and devalued sexually to living in a world where our needs are belittled and defunded and our images airbrushed."  
Shirley's vision for 'No Means' is to empower women and boost their resilience through self-respect and unity.
Queensland rapper, Blaq Carrie leads the talented multicultural cast that brings Shirley's script to the screen with an emotional authenticity and strength, to which today's women can relate.
Shirley has written for the ABC and Nine Networks and wrote for Disney, MGM and Sony with stars such as Cuba Gooding, Judi Dench and Julie Andrews. She co-produced the successful anti-bullying music video, 'Free You Be You', a Heart of Gold Film Festival Awards nominee. 
'No Means' director Danielle Culleton is an emerging filmmaker who has produced many acclaimed short films. Danielle shared her amazing vision and led the diverse cast and crew of over thirty volunteers who donated their time and talent to the making of 'No Means'.
To spread the global message of women's empowerment, the 'No Means' video can be viewed on its website www.whatnomeans.com as well as on Facebook, YouTube and Instagram.  
Social media is not the only target. To help bring meaningful change in the conversation, the 'No Means' team is also working to encourage schools and workplaces to screen the video for its students and employees in order to facilitate a real dialogue among these groups about what 'no' means.
"The goal of doing the video is to reach as many people as possible with its message of clarity for both men and women," Shirley said. 
"It would be beyond our wildest dreams, if it is shared by those touched by its heartfelt message and it goes viral."
– ENDS –
FOR FURTHER INFORMATION EMAIL US: